Product Selection Guide
British and European standards apply to most ladders and step ladders, so make sure you choose the right kind of access equipment for the job.
The Ladder Kitemarks Explained:
BS2037 Class 3 -
DOMESTIC
This Standard applies to products that are manufactured to be used in and around the home in a domestic environment. Class 3 Ladders should not be used by tradesmen or for commercial work.
EN131 (Aka BSEN131) Class 2 -
TRADE / COMMERCIAL
This is the European Standard, which covers the products being used in a trade environment, these products are designed for regular light trade work.
EN14183:2003 -
TRADE / COMMERCIAL
This European Standard applies to step stools. The standard excludes ladders and stepladders as defined by EN 131-1:1993.
BS2037 Class 1 -
INDUSTRIAL
This Standard applies to products being used in an industrial / construction site environment; these are high quality products, designed for heavy and regular loading.
The work at height regulations state that duty holders must ensure:
All work at height is properly planned and organised;

Those involved in work at height are competent;

The risks from work at height are assessed and appropriate work equipment is selected and used;

The risks from fragile surfaces are properly controlled and equipment for work at height is properly inspected and maintained.
There are many things the Work at Height Regulations state for working at height safely, some key points are:
Always complete a risk assessment

Follow the simple hierarchy for managing and selecting equipment for work at height

Always take steps to eliminate any risk to the user and any other parties working close by

Ensure those using the equipment are trained and competent to carry out work at height
Ladder Safety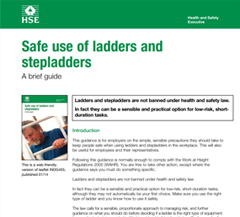 Read More