Step Ladders
3 Product(s)
Looking for a heavy-duty step ladder? We have a range of aluminium step ladders and fibreglass step ladders available for professional and non-professional use. Choose from a wide range of heights and configurations (including swingback step ladders and platform ladders).
A step ladder is an essential bit of kit - everyone should have one! Whether you're at home or in the workplace, changing a light bulb or getting something down from the top shelf, step ladders offer a safe way to gain the extra height you need.
If you just need a cheap step ladder for odd jobs around the house, we've got some great value steps that are perfect for DIY enthusiasts, but we also offer a comprehensive range of heavy-duty step ladders that are certified for trade use. Most of our step ladders are made of strong yet lightweight aluminium, but if you work with electricity, a non-conductive fibreglass step ladder is recommended.
All of the step ladders we sell here at Ladders UK Direct are rigorously tested for safety, so you can climb with confidence. Remember, it's not safe to stand on the very top of a step ladder - as a general rule, you should avoid standing on any of the top three steps of a swingback step ladder.
We offer FREE DELIVERY on all step ladders, so the price you see is the price you pay! Next day delivery is also available on selected step ladders.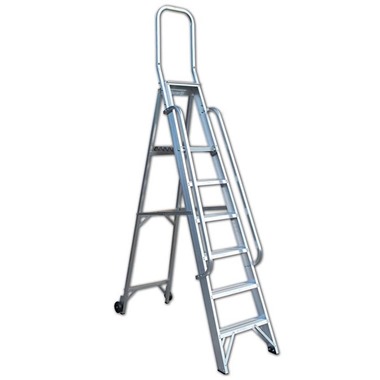 Stock Picking Steps
No. Treads: 2 - 12
No. Options: 9
Use Type: Heavy Duty
Max Load: 175kg
Guarantee: 1 Year Guarantee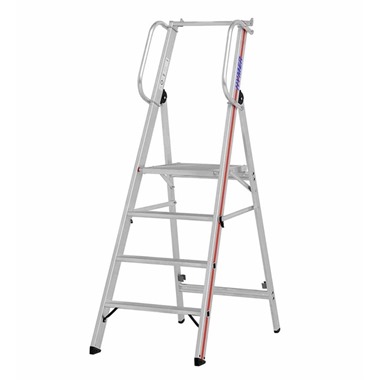 Hymer 8080 Platform Stepladder with Handrail
No. Treads: 4 - 12
No. Options: 6
Max Load: 150kg
Guarantee: 1 Year Guarantee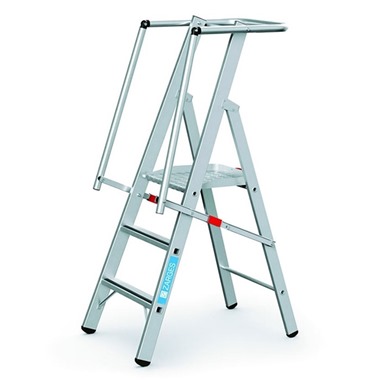 ZAP Safemaster S
No. Treads: 2 - 9
No. Options: 7
Use Type: Heavy Duty
Max Load: 150kg
Guarantee: 10 Year Guarantee
Why buy a step ladder?
Step ladders can be used for a huge variety of tasks, both at home and at work. Whether you're doing a DIY decorating job in your living room or you're starting your own company, a step ladder is a must-have!
Our heavy-duty step ladders come in a range of sizes and materials, including fibreglass and aluminium. So we're confident you'll find the step ladder you need.
If you have any questions about the range of stepladders available and would like to speak to a professional, reach out and contact us today. A member of our customer service team will be more than happy to answer any questions you may have and help you find the right stepladder for you.
How do I use a step ladder?
Check that all of the ladder's feet are firmly on the ground, then climb slowly, keeping three points of contact with the ladder at all times (ideally both feet and one hand). Don't over-reach while on the ladder. See How to Use a Step Ladder Safely for further advice.
How tall is a step ladder?
Our step ladders come in a variety of different heights, ranging from step stools under 1 metre to warehouse steps with an overall height in excess of 4 metres.
How often should step ladders be inspected?
You should give your step ladder a brief visual inspection before every use to make sure it is not damaged. A more thorough inspection should be carried out 2 to 4 times per year - check your ladder's instruction manual for more specific guidance.