Rear Van Steps & Lorry Ladders
3 Product(s)
Our mobile lorry steps are perfect for loading and unloading lorries, vans and trailers. These versatile rear van steps are easy to manoeuvre - simply wheel them into place for easy access to your lorry bed, van or trailer.
Using a lorry ladder makes the loading and unloading of materials a breeze, and reduces the risk of accident or injury. Give yourself safe access to your lorry, van, or trailer with our range of lorry ladders and van steps.
We offer the following trailer ladders: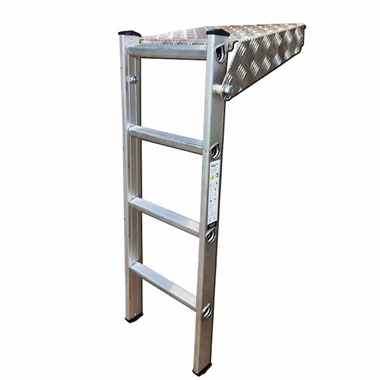 Essgee Lightweight Step
Use Type: Trade
Max Load: 175kg
No. Options: 6
Max Load: 150kg
Use Type: Heavy Duty
Max Load: 175kg
Lorry Steps: Why Choose Ladders UK Direct?
Our durable lorry steps and van rear door ladders are very useful when you want to load up your van in a hurry. These mobile step ladders are manufactured to a very high standard by trusted manufacturers, and as one of the UK's leading ladder suppliers, we at Ladders UK Direct will make sure that you receive your order on time and in satisfactory condition.
All of our lorry ladders are available to buy online at competitive prices, plus we offer FREE DELIVERY on all orders (some conditions apply - see our Delivery page for details).
If you have any questions about our range of van ladders, please don't hesitate to get in touch! Our friendly Customer Service team will be more than happy to assist you.