Professional Double Extension Ladders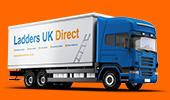 | Delivery Option | Delivery Time | Price |
| --- | --- | --- |
| FREE Delivery | 3-5 Days | £0.00 |
| Next Day Delivery | 1 Day | FREE |
Specification
Scroll to see more >
| Product Code | No of Rungs | Stored Height | Max Extended Height | Width | Stored Depth | Stabiliser Bar | Weight | Price |
| --- | --- | --- | --- | --- | --- | --- | --- | --- |
| LUDT220 | 2 x 7 | 2.0m | 3.0m | 410mm | 140mm | 1.0m | 9.5kg | £127.00 |
| LUDT225 | 2 x 9 | 2.5m | 4.0m | 410mm | 140mm | 1.0m | 11.5kg | £147.00 |
| LUDT230 | 2 x 11 | 3.0m | 5.0m | 410mm | 140mm | 1.0m | 13.5kg | £164.00 |
| LUDT235 | 2 x 13 | 3.5m | 6.0m | 410mm | 140mm | 1.20m | 15.5kg | £200.00 |
| LUDT240 | 2 x 15 | 4.0m | 7.0m | 410mm | 150mm | 1.20m | 19.5kg | £223.00 |
| LUDT245 | 2 x 17 | 4.5m | 8.0m | 410mm | 170mm | 1.20m | 24.0kg | £253.00 |
| LUDT250 | 2 x 19 | 5.0m | 9.0m | 410mm | 170mm | 1.20m | 27.0kg | £273.00 |
Features
| | |
| --- | --- |
| Material: | Aluminium |
| Max Load: | 150kg |
| No of Sections: | 2 |
| Use type: | Trade |
| | |
| --- | --- |
| Certified to: | EN131 Professional |
| Guarantee: | 5 Year Guarantee |
| Rung Type: | D Shaped Rungs |
| Stabiliser Bar: | Yes |
Product Description:
Sturdy aluminium ladder

Stabiliser bar to help limit sideways flip

Ideal for all types of professional work

Large comfortable 'D' shaped rungs

Rigid extruded box section stiles for added strength

Secure non-slip grip with all round PVC moulded feet

7 different sizes available
These professional double extension ladders come with large D-shaped rungs, box section stiles and are available in a wide variety of sizes. Trade extension ladders are ideal for all types of trade work. Maximum loading is 150 kg.
These 2-section trade extension ladders are fitted with the new patented interlocking clip as specified in the Work at Height Regulations (WAHR) 2005.
Our double extension ladders are vigorously tested with a maximum load rating of 150kg.
When using an extension ladder, we advise that you try to use ladder accessories to help keep you safe and limit the chance of a fall. Simply click on the accessories tab to see what is available to work side by side with these ladders.
Available in: 2.42m- 3.82m, 2.92m- 4.88m, 3.42m-5.94m, 4.04m-7.03m, 4.42m-7.81m, 4.92m-8.83m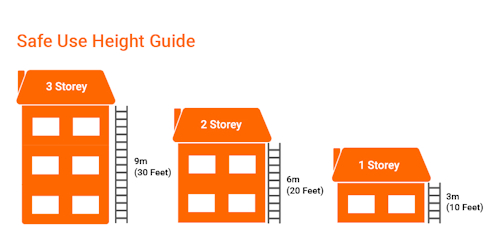 What Is the Maximum Length of a Double Extension Ladder?
Double extension ladders are available in a wide variety of different shapes, sizes, and materials. Generally, we would recommend that any height above 9 metres should have a landing area or a rest platform available.
Our quality double extension ladders come with a maximum extending height ranging from 3.0m to 9.0m. No matter what height you're working at, we've got a double extension ladder suited to you.
What Are the Benefits of Using a Double Extension Ladder?
Double extension ladders are adjustable, allowing them to extend out to almost double their closed height. This comes with a wide number of advantages:
Adjustable height. No matter what height you're working at, the double extension ladder can be set to match for your convenience.
Ease of storage. Being able to collapse to almost half the extended length makes storing the double extension ladder convenient. It also makes it easier to transport.
Safe to use. With any ladder, user safety should always be a number one priority. Our quality double extension ladders come with a variety of safety features like secure non-slip grip PVC rubber feet to ensure that you're safe at all times during use.
Where Can I Get Advice on Selecting the Right Ladder for Me?
Here at Ladders UK Direct, we aim to provide our customers with as much technical information about our products as possible, which is why you'll notice that our products pages contain detailed product specifications. If you have any unanswered questions, reach out and contact us today. A member of our customer service team will endeavour to answer any questions you may have and help you find the perfect ladder to suit you.