Heavy Duty Double Extension Ladders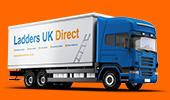 | Delivery Option | Delivery Time | Price |
| --- | --- | --- |
| FREE Delivery | 3-5 Days | £0.00 |
| Next Day Delivery | 1 Day | £0.00 |
Specification
Scroll to see more >
| Product Code | No of Rungs | Stored Height | Max Extended Height | Width | Stored Depth | Stabiliser Bar | Weight | Price |
| --- | --- | --- | --- | --- | --- | --- | --- | --- |
| H9DP25 | 2 x 9 | 2.50m | 4.0m | 410mm | 150mm | 1000mm | 12.1kg | £186.00 |
| H9DP30 | 2 x 11 | 3.0m | 5.0m | 410mm | 150mm | 1000mm | 15.5kg | £214.00 |
| H9DP35 | 2 x 13 | 3.5m | 6.0m | 410mm | 150mm | 1200mm | 18.0kg | £251.00 |
| H9DP40 | 2 x 15 | 4.0m | 7.0m | 410mm | 150mm | 1200mm | 23.7kg | £319.00 |
| H9DP45 | 2 x 17 | 4.50m | 8.0m | 410mm | 150mm | 1200mm | 28.9kg | £347.00 |
| H9DP50 | 2 x 19 | 5.0m | 9.0m | 410mm | 150mm | 1200mm | 31.9kg | £379.00 |
| H9DP55 | 2 x 21 | 5.5m | 10.0m | 410mm | 150mm | 1200mm | 34.7kg | £426.00 |
Features
| | |
| --- | --- |
| Material: | Aluminium |
| Max Load: | 150kg |
| Use type: | Heavy Duty |
| | |
| --- | --- |
| Guarantee: | 5 Year Guarantee |
| No of Sections: | 2 |
| Rung Type: | D Shaped Rungs |
Heavy Duty Double Extension ladders - Product Description:
Certified to BS2037 Class 1 - 1994

Higher Grade Aluminium

Ideal heavy duty ladder for intense everyday use

Now fitted with Large comfortable "D" shaped rungs

Rigid extruded box section stiles for added strength

Solid moulded rubber feet at both ends

Comprehensive range of sizes available

The aluminium Industrial double extension ladders are specifically designed to withstand every day usage in a heavy duty site environment. They are kitemarked to latest EN131 Professional standard which is the highest duty rating for extension ladders in the UK and have a safe working load of 150kg.

The heavy duty stiles are of thick, box-section alloy which is graded in size according to the ladder length are wider and much more durable than what you would see on a trade or domestic extension ladder.

The ladder guides help towards providing a smooth operation when pushing and retracting the extension ladder while the added safety feature of a stabiliser bar helps limit the ladder spinning whilst in use. The generously large D shaped rungs give the user added comfort while conducting their work.
These extension ladders are the ideal choice when working on constructions sites and in many instances you will find that the heath and safety officers will insist on using ladders that are certified to the new EN131 Professional standard.