Light Duty Triple Extension Ladder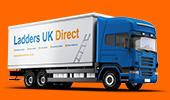 | Delivery Option | Delivery Time | Price |
| --- | --- | --- |
| FREE Delivery | 3-5 Days | £0.00 |
| Next Day Delivery | 1 Day | £0.00 |
Specification
Scroll to see more >
| Product Code | No of Rungs | Stored Height | Max Extended Height | Width | Stored Depth | Stabiliser Bar | Weight | Price |
| --- | --- | --- | --- | --- | --- | --- | --- | --- |
| KLTT6 | 3 x 6 | 1.70m | 3.65m | 410mm | 130mm | 820mm | 9.0kg | £145.00 |
| KLTT7 | 3 x 7 | 1.95m | 4.20m | 410mm | 130mm | 820mm | 10.0kg | £166.00 |
| KLTT8 | 3 x 8 | 2.25m | 4.50m | 410mm | 130mm | 820mm | 12.00kg | £186.00 |
| KLTT9 | 3 x 9 | 2.50m | 5.30m | 410mm | 130mm | 820mm | 13.5kg | £202.00 |
| KLTT10 | 3 x 10 | 2.80m | 6.15m | 410mm | 130mm | 820mm | 16.00kg | £240.00 |
Features
| | |
| --- | --- |
| Certified to: | EN131 Professional |
| Guarantee: | 2 Year Guarantee |
| Use type: | Light Trade |
| | |
| --- | --- |
| Material: | Aluminium |
| No of Sections: | 3 |
| Rung Type: | Square |
Light Duty Ladder – Product Description:
This light-duty triple extension ladder is ideal for light trade use. It's also great for carrying out odd jobs around the home.
Certified to EN131 Professional, this ladder is great value for money. It can be used in a variety of domestic and commercial environments, plus it comes with a two-year guarantee. You can be confident that you are in safe hands with this fantastically versatile piece of kit.
Our light-duty ladders come in a range of sizes to suit your requirements. The smallest size (6 rungs) is just 1.7 metres when stored; the largest size (10 rungs) has a maximum reach of more than six metres.
Key Features:
Sturdy and comfortable square rungs

Steel guiding profiles for easy extension

Wide stabiliser to help keep the ladder steady

Each section of the ladder can be used separately

Usable on stairs and landings

Anti-slip foot caps

Self-locking hooks prevent unintentional detachment during use and transport

Maximum load of 150kg

TÜV approved
Sturdy and lightweight
This light-duty ladder is made from aluminium, an incredibly strong yet lightweight material. As a result, the ladder has an impressive maximum load of 150kg, yet isn't heavy and remains easy to transport.
Because this triple extension ladder is certified to EN131 Professional standards, you can rest assured that you're working with a reliable piece of equipment.
If you have any questions about this light-duty ladder, please feel free to contact the Ladders UK Direct team.
Documentation & Downloads